Day 3 of 2022 Pan Am Para-Badminton Championships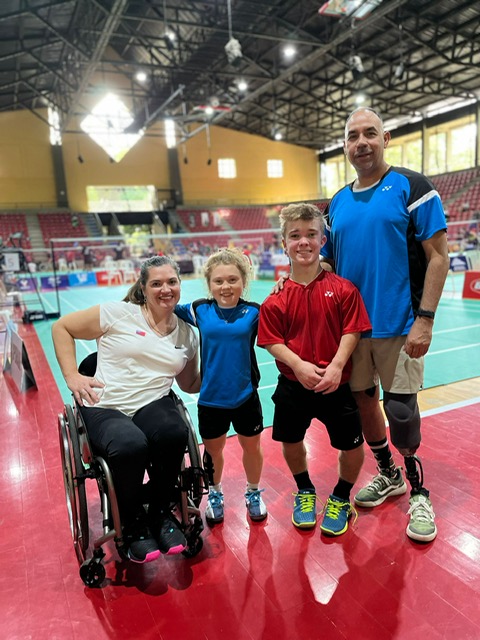 By Mike Krajewski
Day three of the 2022 Pan Am Para-Badminton Championships was another busy one for the four Team USA athletes.
Amy Burnett (WH1) competed in women's doubles (WH1-WH2) with her only match of the day. She and Chile's Daniela Zapata were defeated by Brazil's Maria Gilda Dos Santos Do Antunes and Auricelia Nunes Evangelista (10-21, 3-21).
In his first match of the day, Richard Alcaraz (SL4) and his partner from Peru, Albert Manuel Puente Perez, defeated Dominican Republic's men's doubles pair Patricio Andres Echeverria Olave and Benjamin Garrido (21-7, 21-7). In the quarterfinals, they were defeated by Peru's Pablo Cesar Cueto and Gerson Jair Vargas Lostaunau (11-21, 17-21).
In mixed doubles, Jayci Simon (SH6) and Miles Krajewski (SH6) defeated Argentina's Jonatan Mattos and Karina Loyola (21-15, 21-5) and are now tied at the top of the SH6 mixed doubles group.
In women's singles, Simon was defeated by Peru's World No. 1 Giuliana Poveda (15-21, 5-21).
In men's doubles, Krajewski and Brazil's Vitor Tavares defeated Canada's Anthony Hay and Emilien Langelier (21-13, 21-12) to advance to the semifinals.
In men's singles, Krajewski defeated Canada's Justin Kendrick in the quarterfinals (21-10, 21-15).
Action on Friday begins at 9:00AM Eastern and will continue to be livestreamed on Badminton Pan Am's YouTube channel.
To see results from the tournament, click here.