In Memory of St. Louisian Ted Moehlmann, Jr.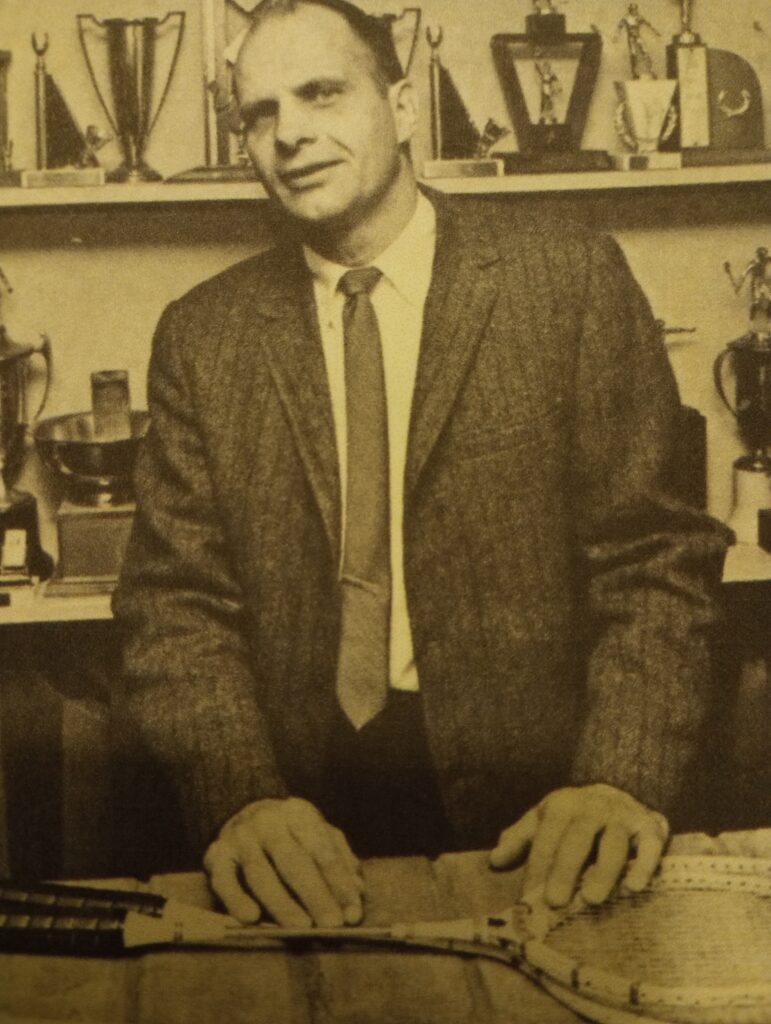 By Mary Ann Bowles
Ted Moehlmann, Jr., born August 20, 1929, in St. Louis, MO, graduated from University High School in 1947, and the University of MO at Columbia in 1951. He went to work for Traveler's Insurance in 1953, and retired after 40 years. 
Ted's love was badminton.  His father brought home a badminton set one night and set it up in the backyard.  Ted developed an avid interest in the sport at age 10, and at age 13 won the Greater St. Louis boys' singles title.  In 1945 Ted won the Midwest Badminton Association boy's singles championship in Chicago.  He was the first American Badminton Association U.S. Junior Champion in 1947.  At age 18, Ted won the MBA Men's Singles title, and went on to win the title 17 times, 12 times consecutively from 1954-1965. 
Ted Moehlmann, Jr., was the all-time Midwest Badminton Association Men's Doubles Champion, winning 13 titles from 1950-1977 with four different partners, Russell Smith, Earl Boston, Jim McQuie, and Bruce Pontow.  That span included 8 wins with Jim McQuie over a 14-year span.  He also won three MBA Mixed Doubles titles with Abbie Rutledge.  Ted was ranked in the top ten nationally in Men's Singles for many years.  He played matches against U.S. players like Dave Freeman and Jim Poole, but also against international players such as Tan Jo Hok and Rudi Hartono from Indonesia, Eddy Choong from Malaysia, and Erland Kops from Denmark. 
Ted held three Senior National titles in Men's Singles; seven Men's Doubles titles with Jim McQuie, Ed McSweeney, and Dick Witte; and two Mixed Doubles titles with Ethel Marshall.  By 1976, he had won over 600 trophies and was still hooked on badminton.  At age 46 he was still ranked #12 in Men's Singles in the U.S.   Ted was respected throughout the country not only for his playing ability but also for his composure, temperament, and devotion to the sport.  In 1965, Ted received the MBA Burdick award for his sportsmanship.  He was the recipient of the ABA Ken Davidson Award in 1970 for his contributions and dedication to badminton.  In 1970, Sports Illustrated presented him with its Special Award of Merit for badminton. 
Ted passed away in St. Louis August 9, 2022 at age 92.  He was the father of two children and stepfather of three.  He had two grandchildren and one step-grandchild, three great-grandchildren and two step great-grandchildren, and one great great-grandchild.  He left a legacy in Midwest Badminton ranks and on the national and senior national levels in his career.  The USAB sends its condolences to Nadine and the Moehlmann family.  Ted had recently donated a large quantity of tournament programs, ranking pamphlets and certificates, and a 1947 Ice Capades program to the USA Badminton Museum, and those items will soon be up online for all to see and enjoy.
USA Badminton thanks Mary Ann Bowles for her help in honoring and remembering Ted Moehlmann, Jr.