USAB Celebrates Successful Shuttle Time Teacher Course
On Saturday July 29th Tina Lulla and Joel Goldstein delivered a Shuttle Time teachers course to 13 coaches and badminton aficionados at the Triangle Badminton and Table Tennis Club. 
Prior to the course each of the participants completed the Shuttle Time online module and then they whole heartedly participated four hour interactive session with Shuttle Time tutors Tina and Joel. The participants got an opportunity to work with the Shuttle Time resources which include a series of 22 lesson plans along with demonstration videos. In small groups they planned and implemented a series of badminton activities from the Shuttle Time curriculum.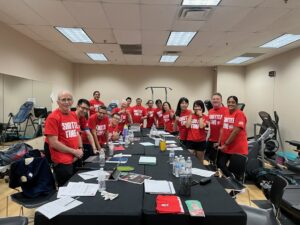 The course also focused on how to adapt each of the activities to ensure inclusiveness for a variety of different students. After demonstrating their proficiency with the Shuttle Time materials the participants were all awarded Shuttle Time Teacher certificates. They are now ready to get out into the North Carolina communities near them to bring badminton programming to young people who are unfamiliar with the sport.  
Shuttle Time is a non profit initiative through the Badminton World Federation and USA Badminton. The goal of the program is to bring Badminton to as many young players as possible, specifically players who may have not previously had access to badminton programming.