PROMISING ATHLETE, ESTHER SHI, WINS WOMEN'S SINGLES TITLE AT 2019 NATIONAL ADULT CHAMPIONSHIPS
his is the third article in a five-part series on the 2019 National Championships held at Arena Badminton and Sports Club in Pomona, Calif. Tune in to read more articles!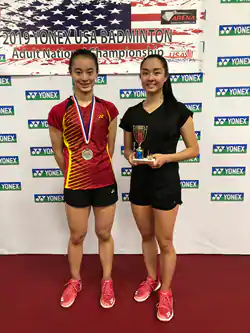 It was a grueling hour-long three-set Women's Single Finals match between the two youth elite athletes, Esther Shi (18) and Natalie Chi (16).
Natalie Chi had won the first set, taking full control of the rallies and pace (21-17). Into the second set, Chi continued her offensive strategy and managed to gain a strong lead. Natalie appeared to be on her way to secure the Women's Singles title with Esther at a 6-point deficit during the second set.
"I remember trailing the first game and losing. The second game I was definitely trailing again. But I think what happened during the second game was that Natalie relaxed a bit, and I was able to gain momentum during the match," recalled Esther Shi.
"There was a pivotal point [in the match] where [Natalie] tumbled [at the net], and I managed to get that tumble back." Esther was able to shift the tides from this intense net battle and began to close the point gap between her and Chi.
The crowd was captivated during the intense back and forth rallies between the two resilient and skilled Women's Singles Finalists.
"Once I started to get my rhythm back, the momentum carried through, and I was able to clutch five points," bringing the second set to a deuce. There was a tangible intensity that left the fans wondering if Esther would be able to capitalize on her streak and force a third set. Conquering the nerves of the deuce, Esther pulled through to win the second set (23-21).
At the beginning of the third set, Esther Shi seemed confident to win the title. The match depended on whether Esther could maintain and continue her stride or if Natalie would recover from the second set loss.
While the two young athletes continued to battle, Natalie Chi was unable to recuperate. Shi continued to outplay Chi with her newfound confidence and unbroken momentum. Eventually, Esther secured the title, sprinting at the end to win the third set (21-14).
"It was a very tough match to play, but overall I had a lot of fun," reclaimed Shi. Both opponents had known one another for a while, which made the competition and ultimate win for Esther worthwhile.
"That game really shows how at any point you can win or lose… It takes a lot of psychological strength to come back – especially if you're the one under pressure or the one that needs to continue the pressure to keep the lead."
Going into the 2019 Adult National Championships, Esther had no expectations of winning the Women's Singles title. Instead, she mainly focused on performing her best and remembering all the hard work and training she had put in.
"It was a great experience," Esther commented. Moreover, since there was a large youth athlete turnout at the 2019 Adult Nationals, Shi thought that it was a "different" but exciting experience. The active youth participation showed that "there are more [youth] players who are serious about the sport," which "is a good thing for our country – and the future of American badminton."
For her own journey, Esther hopes to continue training and competing during her time at college. As a recent high school graduate, Shi will be attending university in the Fall of 2020. Shi says, "I definitely still want to play and always dreamed of playing the Olympics – or at least be able to play at a professional level."
Though the COVID-19 pandemic has closed all the clubs and gyms, Esther has been able to take a break from badminton and spend time with her family. She has also been testing out home workouts as well as running… a LOT!
Once everything is safe again, she looks forward to competing at her favorite tournament, Boston Open, and attending business school in California.
On behalf of USA Badminton, we'd like to congratulate Esther Shi on her Women's Singles title win at the 2019 Adult National Championships. We look forward to seeing her professional career take off and encourage all of our athletes to remain hopeful, healthy, and safe!
Please tune in next week for our fourth installment of the 2019 Adult National Champions series. Up next, Mixed Doubles winners – Jamie Subandhi and Vinson Chiu!