Team USA Athletes Conclude Successful World University Games
Twelve badminton athletes represented Team USA at the World University Games held July 26 – Aug. 7, 2022 in Chengdu, China. In addition to world-class competition, the athletes were able to enjoy a variety of cultural programs that emphasized the international goodwill and off-the-court benefits of elite sport as well.
The athletes from Team USA reported that they had an excellent experience both on and off the court.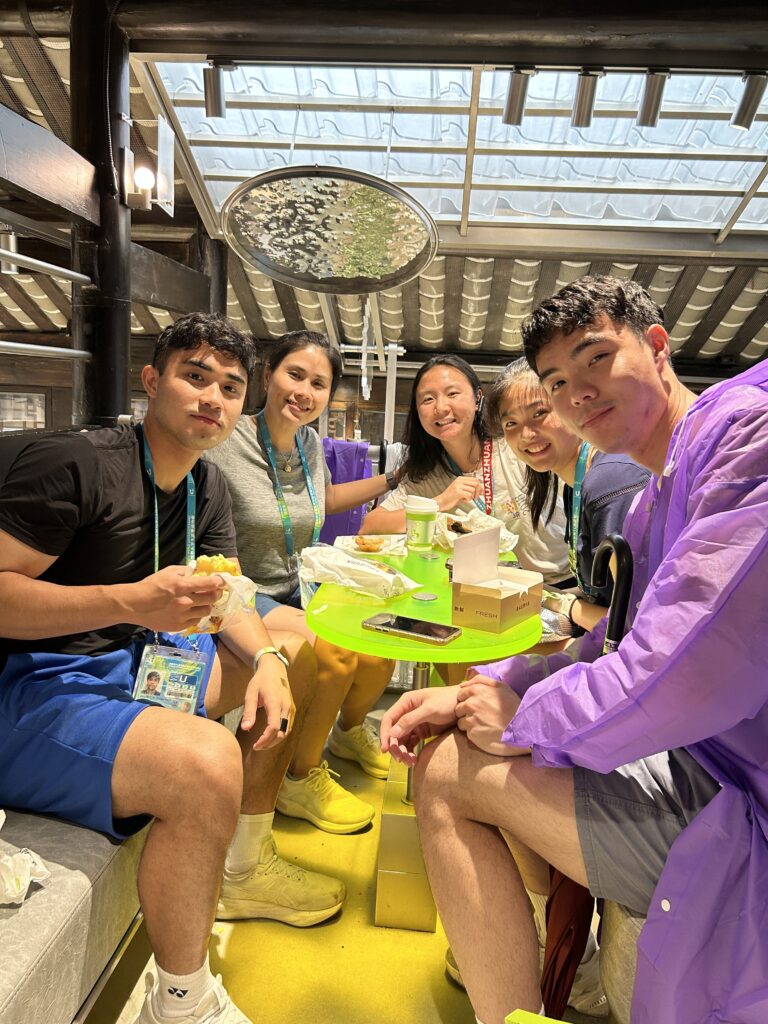 "Chengdu was a wonderful experience and I would love to go again, even just as a spectator," said mixed doubles athlete Jacqueline Zhang. "We were all very impressed by the Chinese hospitality and the planning and organization that must've gone into such a large-scale event. It was also an amazing experience in terms of cultural exchange as we were able to meet other top student athletes from all over the world and in different disciplines." 
Men's singles athlete Enrico Asuncion said that, "I had a wonderful time at the World University Games, and it is definitely my favorite tournament so far." 
USAB chairman Fred Teng was also in attendance at the event and met with various BWF and Chinese dignitaries. 
Team USA Daily Recap
July 30 – Team Event: 
The U.S. team began pool play competition on July 30th, defeating Poland 4-1 in the morning session but falling to Malaysia 1-4 in the afternoon.
July 31 – Team Event:
On July 31st, the U.S. team continued pool play, defeating Singapore 4-1. They moved on to the quarterfinals on August 1st. Head Coach Kennie Asuncion said, "You can see the dominance in skill from our players and they showed it on court."
Aug. 4 – Individual Event:
It was a busy day for Team USA  with athletes advancing through the rounds. Team USA athletes recorded multiple wins in the first round of competition. A highlight of the day was Natalie Chi winning in an upset in her second match to advance to the next round.
Men's Singles: 
Enrico Asuncion beat Turkey  21-8, 21-15, lost to Hong Kong 11-21, 13-21

Victor Lai beat Azerbaijan 21-9, 21-11, lost to South Korea 3-21, 6-21

Daniel Bielin beat Uganda 21-7, 21-7, lost to Thailand 15-21, 17-21
Men's Doubles:
Nicholas Chiu/Victor Lai beat Azerbaijan 19-21, 21-15, 21-15, 

Enrico Asuncion/Adrian Mar lost to Switzerland 20-21, 21-12, 16-21

Daniel Bielin/Andre Chim beat Estonia 21-15, 21-16
Women's Singles:
Natalie Chi beat Poland 21-16, 21-13, beat Indonesia 21-13, 21-18

Katelin Ngo lost to Singapore 19-21, 16-21
Mixed Doubles:
Andre Chim/Kalea Sheung lost to Indonesia 11-21, 9-21

Nicholas Chiu/Jacqueline Zhang lost to Malaysia 15-21, 16-21 
Aug: 5 – Individual Event:
Team USA had a full day of competition in the round of 16 and quarterfinals. The highlight of today was Esther Shi and Katelin Ngo in the women's doubles against Chinese Taipei. While they lost, they had a hard-fought last set of 26-28 that engaged the spectators and provided a thrilling competition.
Men's Doubles:
Victor Lai/ Nicholas Chiu lost to Netherlands 14-21, 16-21

Daniel Bielin/Andre Chim lost to Germany 12-21, 13-21
Women's Singles:
Natalie Chi lost to Thailand 8-21, 15-21
Women's Doubles:
Kalea Sheung/Nicole Alice Ju win by walkover against Switzerland, lost to Malaysia 10-21, 12-21

Esther Shi/Katelin Ngo lost to Chinese Taipei 22-20, 13-21, 26-28
Mixed Doubles:
Adrian Mar/Natalie Chi lost to Indonesia 10-21, 16-21
Aug: 6: 
Team USA athletes were able to explore the local area. Athletes watched other competitions, toured the art museum and visited the Chengdu museum as well.
Overall Team USA had a great showing at the World University Games, and the young athletes were able to gain valuable experience in an international games atmosphere.